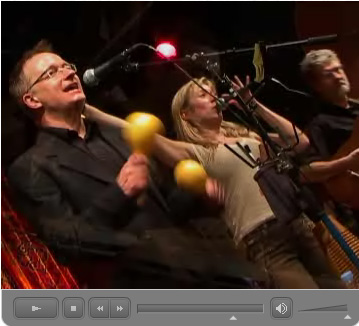 You have to install (a newer) Flash player to enable you to see this video clip! The Flash player is free and can be downloaded here

© Salsa Loca 2006
El Amor de mis Sueños (Jakob Johansen)

Etnorama was the only venue in Denmark dedicated exclusively to World Music, and it will be sadly missed. We sincerely hope that the club's new owners will honour Etnorama's cultural profile and carry on its traditions.

The present recordings were made when Salsa Loca guested Etnorama for the fourth and last time, and the featured song excerpt is the original composition 'El Amor de Mis Sueños' by trombone player Jakob Johansen.

Salsa Loca gives thanks to Jesper Musaeus who recorded and edited the video clip.


---
Time and place: Etnorama, Copenhagen, Feb. 26, 2005
Standing in: Lene Pernille Christiansen (trumpet)
Video recording and editing: Jesper Musaeus
Video format: Flash 365x328, time 5:53, file size 21.5 Mb